BUY THE NEW FRENCH MAGAZINE VOLUME WITH DEPECHE MODE ON ITS COVER :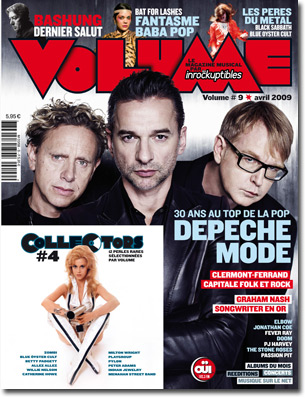 EN COUVERTURE, DEPECHE MODE : 30 ANS AU TOP DE LA POP
En trente ans d'un parcours agité, les ex-garçons coiffeurs de l'electro-pop british des années 80 sont devenus un monument du rock et une influence sur l'electro et le metal gothique. Ils parviennent même à se régénérer sur leur douzième album où leur influence sur le rock d'aujourd'hui semble toujours aussi marquée. Mais quel est leur secret ? Volume revient sur un groupe toujours au sommet de son art.
also :
> BASHUNG, L'HOMMAGE VIVANT
Comment rendre un juste hommage à Alain Bashung ? Peut-être en pointant les vertus d'un homme allergique à la routine qui, dans l'univers trop souvent aseptisé de la chanson française, sut remettre l'imprudence au cœur de l'enjeu musical.