NEWS 1999

check on here the News of 1998

08-11-99
As a source from Daniel the "Brat" Barassi :
The band and Jonathan Kessler were all in London last week, and during the course of several meetings, they discussed, amongst
other things, the band's future plans. The mood was very positive, and Martin played the others a couple of new ideas he's been
working on. It looks very likely that the band will be in the studio next year. David, Andy and Jonathan were all in New York this
week-end to support the band's accountant, Ronnie Harris, who was running in the marathon, and to cheer him on from a couple of
points along the route. The band heartily congratulates Ronnie, who was running to raise money for the Norwood Ravenswood Trust,
a charity dedicated to the needs of handicapped children.

06-11-99
Today in France has been released a special Depeche Mode boxset called The Singles 81-98 that has the singles 81>85 + the Singles 86-98
it's a limited number edition boxset so if you want to make a nice gift or don't have both these albums go buy it now!!

12-10-99



The DVD of the Singles 86-98 is released only today and the Singles boxes set will be released on October 15th finally and they are available from every store and of course at Mute Bank in Mute records:
http://www.mute.com
29-09-99
Composed and recorded by Vince Clarke (Erasure) and Martyn Ware (Heaven 17),
"Pretentious" is the first-ever album to realise the potential of
3D soundscapes. It combines over 70 minutes of cinematic music and the latest
in surround sound technology to create a dramatic and memorable listening
experience.
to see more about it go there : http://www.mutelibtech.com/mute/clarke_w/pretentious.htm
12-09-99
The Videos 86>98 DVD will be released on October 5th. , it is a
straight port of the VHS video release so only with the videos and the Singles 86-98 EPK.
The 3 Singles boxes are re-released again on October 18th, and they will have the same CD's as the previous ones.
There will be only 15000 copies of each released.
06-08-99
Here are very good news announced by Brat :
"On Thursday July 29th, at 6:25pm, in New York City, David's wife Jennifer
gave birth to a healthy baby girl, Stella Rose Gahan. Obviously, Dave is
very happy, and very proud."
I have only one thing to say : all my congratulations David and Jennifer ;))
27-05-99
Thursday 27th May, Martin was presented with an award for
"International Achievement", by the British Academy of Composers &
Songwriters, at the 44th Ivor Novello Awards, at The Grosvenor House Hotel
in Park Lane.
Martin was presented with his award by Daniel Miller, whose speech
commended Martin's work as Depeche Mode's songwriter, and the fact that
for nearly 20 years the band have managed to connect, through their music,
with people all over the world.
Other attendees at the music industry-only event included Rod Stewart and
Robbie Williams.
Congratulations , Martin
23-05-99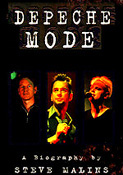 The Biography called: "Depeche Mode - A Biography by Steve Malins" has just been released ...
here is a small presentation of the book :
"This is the story of the mutations, imperfections and triumphs of Depeche Mode. Written with the band's co-operation,
Steve Malins' biography throws light on this private, frequently misunderstood group and their lives which have been bizarre, hilarious, extreme and destructive through nearly 20 years of constant success and excessive celebration."
In the book they say that Martin has been preparing some new stuff for a new album, as well as preparation for a new album, to follow up "Counterfeit E.P."
It is also said in the book that DM may be signing to a major label in the future...
too bad ,their association with Mute has always been good I think ...
This Bio has some interviews from the band itself, and people who may have been or still is close to the band...
as well as some pictures .. something not to miss I think ...
to buy that biography just go there:
http://www.bookshop.co.uk
01-05-99
Here are some great news :
* Press release
The band have issued a press release, stating the following:
Following various meetings between the band members in London last
month, we are happy to report that they all expressed positive feelings
regarding the future, and they look forward to getting back together in the
studio later in the year.
Meanwhile, Martin will shortly be getting down to some serious work in the
song-writing department, and we all look forward to hearing some new
material in due course.
So what else could it mean that next album is in preparation for 2000 ? oh yes !!!
Enjoy...
15-02-99
David is finally married again , he got married on Valentine's day , I wish him to be happy... cause he really deserves it
10-02-99
A new page with only events related to DM as appearances on Tv or conventions has been lauched check it here:
DM News
Mute Records is planning on releasing the following of the singles box-set : 4 , 5 & 6 ,which will hold all the singles for each album: VIOLATOR , SOFAD , ULTRA, and the boxes may contain bonuses CD's maybe some extra video clips on CD ROM, they'll be re-editing the 3 first singles box-sets as well , and that should come out in September 1999