NEWS 2000

check on here the News of 1999
check on here the News of 1998
dates are in (dd/mm/yyyy) format

15-10-2000
Courtesy of www.depechemode.com


There is a new message from David Gahan on the official site, about the work on the new album, about their methods of work and with some music from the new album on the background. Here is his message :
"DAVID : OK. Hi. Back again. So, this is where I do a lot of my vocals, as they're working in there. You've got Mark Bell, the producer. They're actually working on this, what you hear right now. I'm actually working on some vocals to this too. What I'm doing is, I'm using Pro Tools. I record my vocals in here, on the mic, and it goes into the Pro Tools here - this is me, as you can see here. This is to a song called "Sweetest Condition". And then I burn that, take it in there, give it to Mark, he puts it into his computer, and runs it through the desk there - see if it's ok. So we're doing three things at a time. Actually, Martin is in here as well, and what he's doing right now is he's been sampling sounds and stuff. Also what he does in there is he's working on some little pieces of music to go in between some songs - and he's supposed to be writing some new songs too. But we got a lot of songs. We're in really good shape. I can guarantee this is going to be the best Depeche Mode album for a long time. And we will be touring next year, which I'm looking forward to as well - I'm in really good shape. I'm excited about it all. See you soon. "

To see the video and hear the interview of Dave or for more infos go to the official site:

---
New artwork in the favourite picture section , click on the picture to see it: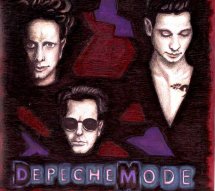 ---
Here is the scan of the article of Records Collector mentionning my site (thanks Jean-Yves) :

12-10-2000

Paul /Halo recently met Martin Gore in Vancouver , during the band's 2 weeks break and he made them ( Martin and Paul Freegard) visit Vancouver. Martin and Paul were there to work on 2 new tracks for the album, adding to the 10 songs that are ready. Freegard described the new album as minimalistic and "weird". Freegard also mentionned that the band members were sampling from different items from the studio ( like in the old days). He also mentionned Martin wrote some great songs. Andy is now in London and David in New York. (they get back to work real soon)
For more infos and details go to Halo's website: (visit his forum for his experience with Martin)

ALL DM Videos are available in real video and Windows player format to download and see on Bongbishop's website, that will soon turn into www.depechemode.tv, Miguel as always made great work with his site, so if you want to see and get any of the DM videos go there now!
There are now some Recoil t-shirts available on the Recoil website to buy so go there right now!
click on the t-shirt picture to access the Mail order section

For More infos go to Shunt or Recoiline
09-10-2000

Q

magazine No

270

from November 2000 features a CD with a Depeche Mode song in it

For more infos go to

www.q4music.com

here is its tracklisting :

01- Moby : Novio
02- Groove Armada : All the River (radio edit)
03- Knobe featuring Ben Jason : Slip into Something
04- Fairport Convention :Who knows where the time goes?
05- John Martin : Solid Air
06- Underworld : Push Downstairs
07- Moloko : Sing it back ( album version)
08- Oasis : Half the world away
09- Nick Drake : River man
10- Grandaddy : Underneath the weeping willow
11- Garbage : Milk (classic mix -by Massive Attack)
12- Goldfrapp : Utopia
13- Talk Talk : Inheritance
14- Depeche Mode : Useless, the Krufder & Dorfmeister session edit
15- David Bowie : Art Decade
16- Mercury Rev : Holes

Here is the article taken from Q Mag :
Artist : Depeche Mode
Track : Useless , the Krufder & Dorfmeister session edit
Album: ULTRA
"Some sweet electronics for the terminally immobile. Originally a cool, calculating 1997 single, then given a post-techno once-over by Kruder & Dorfmeister, the Viennese duo who are so chilled it's surprising they get anything done at all. Their message to David Gahan and the boys seems to be: don't let all that S&M self-loathing get you down. Sit back. Relax. With this crystalline beauty you too can simulate what it's like living in a great big palace of ice. That's right, just like the one Superman lived in! "

For more Infos go to Q magazine website:

Record Collector Magazine, has made an article about Synth bands and related websites about those bands, and DM is mentionned in it , as well as my site, for more infos look it HERE
08-10-2000
Courtesy of www.depechemode.com

| | |
| --- | --- |
| | |
There is a new message from Martin Gore on the official site, about the work on the new album, here is his message :
"MARTIN : Hello, this is Martin Gore, and I'm here in the studio in a separate little room from the rest of the band. At the moment I'm just working on a few link pieces maybe for the album. And I'm doing some sampling, and working on some separate bits that we need. And as you probably know, we're about half way through the recording, and things are going really well. There's a positive vibe in the studio with the band, and we're looking forward to having this record out finally. I don't know why they're called records anymore, but I come from a different generation. We're hoping to get it out sometime soon, and then maybe come out on tour straight after that. I hope to see you then."
David Gahan made an interview for KROQ on October 3rd where he spoke about the progress of the new Depeche Mode album.
Here is the current status of Depeche Mode's upcoming album:
Band Status: The band are currently on a two week break, while Martin writes a few more songs. The band will then resume work on the album until the middle of November, when they should enter the mixing stage.
To see the video and hear the interview of Dave or for more infos go to the official site:

01-10-2000
Courtesy of www.depechemode.com
There is a new message from Andy Fletcher on the official site, in which you can hear some snippets of a song , here is his message :
"ANDY : Good day. I'm Andy Fletcher as you probably know. The greatest synth player in the world - synth bass player in the world. I'm cycling around the studio. It's all so busy, and I have to go around so fast, from Dave to Martin, et cetera et cetera. We're recording a really good album at the moment. We're just about halfway through it, and it sounds really fantastic, and I'm not just saying that. I think it's going to be our best album ever. Anyway, see you later. "
Here is a new interesting Megamix of Depeche Mode made by BACKSPACE click on the link to listen to the file ( Real Audio File , size : 1,10 Mb )
DM Remix by BackSpace
click on the Month to see the other news of this year
| | | | |
| --- | --- | --- | --- |
| | | | |
| | | | |
| | Oct 2000 | Nov 2000 | Dec 2000 |