Here all the events related to DM...
check here the EVENTS of 2000
check here the EVENTS of 1999

TV AND RADIO EVENTS

News September 9th 2001

On Monday September 10th in French channel MCM there will be a show called "L'INTEGRALE DEPECHE MODE" at 8:30pm , so be ready !

---
On the german channel Arte on their show TRACKS there will soon be a special interview of DM , mostly David Gahan on October 19th 2001

---

On french Channel M6Music there will be a special show about DM (only videos) :
Show "cent pour cent" Depeche Mode Monday September 3rd from 9:00 pm to 9:30pm on M6 MUSIC

---

on MTV France on September 11th there will be again the show "Essential DM" at 9:30 pm
there will be also the making of "I feel Loved" on September 14th at 9:30 pm

---
News June 13th 2001

On Friday June 15 th: DM day on MTV!
15:00 - 16:00 (3 pm to 4 pm) VH-1 Behind The Music Special
17:30 - 18:00 (5:30pm to 6:00 pm) Essential with Depeche Mode
21:00 - 21:30 (9:00 pm to 9:30pm) Making The Video "I Feel Loved"
23:00 - 0:00 (11:00pm to 12:00 am) MTV present Depeche Mode
(thanks to Strangebong)
News May 27th 2001
Possible DM appearances on TV:
Sun 27 May / BBC1 / 16:50 Top of the Pops reunion 1981 ("Classic hits from 81")
Wed 30 May / BBC2 / Top of the Pops 2
Concert from 1985 on a festival on french channel TV BREIZH on tuesday 29 May at 11:15 pm (on Canalsat, canal n° 88) - thanks to Pierre for the info
News May 12th 2001
On French TV

On the show called CD'Aujourdhui on May 16th before each Flash news in morning , at noon and at night there will be a DM interview.
On French TV channel MCM on Monday at 11:00 pm will be a special show about DM .
On Tuesday 15/05 on the same channel will be special interview of DM on the show JDM at 12:45 pm plus played again on : 15/05 at 7:30pm and 15/05 at 10:30pm


News May 1st 2001

On May 7th at 3:00 pm Uk time, BBC London Live celebrate Depeche Mode's 10th studio album release with a 2 hour special, hosted by Gary Crowley. With a history spanning over 20 years, the programme brings together for the first time fresh interview footage from all of the past and present band members, as well as journalists, DJ's from across the water and those integral to the band's success.
Hear how Mute Records supremo Daniel Miller first decided Depeche Mode were key talent and instigated an infamous 'handshake deal' with the teenagers that has remained concrete for over 2 decades.
Vince Clarke candidly admits the reasons behind why he left the band just as they started making it big whilst Andy Fletcher admits the band were not worried by the departure of their main songwriter.
Alan Wilder reveals how he eventually became Vince's replacement and details the rocky but enjoyable journey he took with the band until his decision to follow in Vince's footsteps and walk away from Depeche Mode in 1995.
Get the inside information on the troubles with Dave Gahan during the 90's with his drug addiction, and hear first hand how Anton Corbijn, the band's visual director, heard from REM frontman Michael Stipe that Gahan was in turmoil.
The documentary concludes with all 3 remaining band members reflecting on their careers, and the ups and down of their time with Depeche Mode - from playing in front of 70,000 fans at the Rose Bowl, Pasadena, to how the band came through their personal problems and the tension to relaunch themselves and produce their new album, Exciter.
In documenting the band's rise from Basildon minnows to stadium-filling giants, Gary Crowley finds out what makes the band, and what moves the band. Hear the story of how an electronic 4-piece group conquered the world, against all odds, to become one of this country's finest and most important products.
you can hear the show at this URL : BBC LONDON LIVE

DM will appear on May 4th on TOTP to perform Dream On
News April 19th 2001

In the french TV Show PLUS VITE QUE LA MUSIQUE on TV Channel M6 on Saturday April 27th 2001 at 8:00 pm there will be an interview of Depeche Mode in that show.
here is the text of presentation taken from that site:

Dépeche Mode Dans la longue série « On achève bien les dinosaures… » voici encore un groupe historique qui refuse de mourir : Depeche Mode c'est LE groupe fondateur de l'électro-pop branchée désespoir-je-m'habille-en-noir des années 80. Mélodies raffinées, boîtes à rythmes martiales, esthétique sado-maso, les Depeche Mode ont sorti la pop de son adolescence, et défriché le terrain qui menait à la techno actuelle, tout en restant grand public. Après 40 millions de disques vendus, un album hommage remarqué (avec notamment The Cure, les Smashing Pumpkins et Placebo), et un best-of automatiquement best-seller, Masters and Servants reprennent le collier pour un nouvel album très techno qui va en scotcher plus d'un (puisqu'on vous le dit !)

In the french radio called France Inter on the show called Play-List, (everyday between 3:00 pm and 4:00pm), Laurent Lavige said that Dave, would be in his show on May 17th and May 18th
Listen to the announcement HERE
Info by Bart aka Wime on the french Mailing list "Depeche"
News April 17th 2001
SOME NEW SPECIAL SHOW ABOUT DEPECHE MODE WILL BE PLAYED ON MCM on Thursday April 19 th at 00:30am and on Sunday April 22nd at 3:30 pm
News April 16th 2001
The video of Dream On is available at MCM site here: Dream On Video
Read here a small bio of Depeche Mode at the MCM website : DM MCM BIO

SOME NEW SPECIAL SHOW ABOUT DEPECHE MODE WILL BE PLAYED ON MCM on Sunday April 22nd at 3:30 pm :
"Spécial Depeche Mode : Depeche Mode est en train de revenir sur le devant de la scène, avec la sortie d'un très attendu nouvel album "Exciter", qui sortira en mai prochain. Rencontre avec Le groupe qui a bouleversé les années 80 et 90. 52 min. "
News April 12th 2001
On French Radio OUI FM

between May 21 and 25 th, a small story and bio of DM at 18h30 of 10 minutes plus a song.
On French TV

On the show called CD'Aujourdhui on May 16th before each Flash news in morning , at noon and at night there will be a DM interview.
News April 4th 2001
PROMOTION DM in FRANCE for April & May
TV
DU 24/04 AU 30/04 SPOTS de 20"
RADIO

DU 24/04 AU 30/04 SPOTS de 20" +
Journée Spéciale Depeche Mode
le 15 Mars sur NRJ
News April 2nd 2001

There is an interview of Dave Gahan at M6 music Website click on the pictures below to access it ( there are videos of Dave's answers in real video)

On RTL radio station on April 28th 2001 between Midnight and 2h00 am Georges Lang will make a Saga DM ( s story and bio of DM) and will present the new album and there will be a 30 minutes interview he had with Depeche Mode while they were in Paris for their promotion.

There will be a special show at the INTEGRALE of MCM with 90 minutes of Depeche Mode videos ( with Dream On)
here are the dates and hour in which that will happen :
April 7th at 13h15 (1:15 pm France time GMT+1)
April 9th at 20h30 (8:30 pm France time GMT+1)
April 11th at 15h00 (3:00 pm France time GMT+1)
hope your VCR will be ready!
presentation text:
"Depeche Mode a été un des groupes-phare des années 80. Après une dizaine d'albums, des concerts à travers le monde, depeche Mode est de retour avec "Exciter", album à venir. "

News March 31th 2001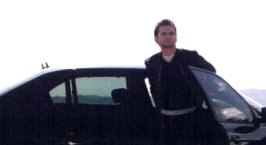 The
Dream On
video promotion started on
March 30th
on those french TV channels:(still waiting for them to show it)
News February 1st 2001
On the German / French TV arte for February 2nd, on the music show called TRACKS there will be a small documentary about MUTE RECORDS
here is what is being said :
02/02/2001 - 19.00 (7:00 pm CET +1 ) (Information 42 MIN. PDC 19.00 ) TRACKS musical Magazine (GermanyAllemagne, 2000-43mn) WDR. Show it again on CanalSatellite, TPS or via a numeric receiver on February 03
* Dream : the label Mute. Depeche Mode, Nick Cave, Add N to (X), Erasure : all these bands so different have in common the fact of having a contract with the independent british label Mute. Its founder , Daniel Miller, now tries a new expansion in Berlin. *