TEMPLE X : TOPICAL ARTIST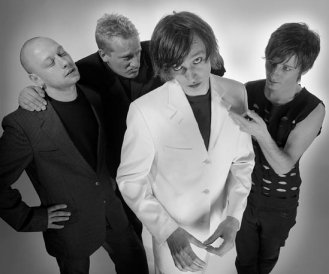 From left to right : Martin Obojes, George von Staden, Guenther Bernhart and Thomas Sperlbauer.
As we can suppose, you certainly had the chance to see Depeche Mode live this year
And if you remember the three nice musicians who were accompanying Frank Tovey on stage as support, you already know how Temple X looks like
Maybe you had already guessed that this young trio was not just an orchestra in charge of backing Fad Gadget but above it an actual whole band. Mode Nation offers you to learn a little more about them just right now, a little flash back
PAST
Itís in 1994, in Kusftein (Austria), when two friends, Guenther Bernhart and Thomas Sperlbauer decided to form Temple X. The drummer Martin Obojes will quickly join the band and itís at the end of 2000 when they recruited the keyboard Georges von Staden for the elaboration of their new album Xplosion, released in August 2001. Add to that the precious help of Erwin Larcher, as a friend, manager and technical ingeneer and the team would be complete, or almost
Almost because at the beginning of 2000, Temple X had the brillant idea to contact Frank Tovey for the production of their forthcoming album Xplosion. The collaboration will be fruitful, letting Frank adding his synthetic touch on the rock project, elarging as well the musical horizons of the band. Recently, Frank even told a French magazine that it was by working on the electronic aspect of Xplosion that he has decided to come back to his own music again. And then, came the release of his Best Of and itís new promotion by supporting Depeche Mode. Obviously, who could be more appropriate than Temple X to make his backing band for this occasion ? Even if they were not directly named, this was a great opportunity for these talented guys not enough known in Europe yet.
PRESENT
And, here we are in Fall 2001, the Exciter Tour is over
After some researches about the mysterious backing band, the team of Mode Nation quickly discovered the name of Temple X, its story and above all, its music. I explored the official website, downloaded the track "I like it" and loved it from the first listening. I had to order the album directly from Erwin Larcher of whom Iíd like to underline the really nice welcome, here was a manager who seemed very satisfied with the feedback of the Exciter Tour. After two weeks of hard waiting, I received at last Xplosion, listened to it and it has completely outshined my hopes. Surely one of my best acquisitions of the year 2001. Here is an album where pure rock songs are closed to dark and harrowing ballads to finish by the stupefying Space Cowboy, a linking of three tracks which end the album in the synthetics echoes of a sweet and cold voice, where sentences bang together over a concert of guitars tortured with a phaser
An apocalyptic (e)Xplosion
Moreover really well produced, Xplosionís got its own sound, Guentherís voice can let you indifferent, the compositions are original and varied but still forming something judiciously homogeneous. An indispensable CD to have in oneís record collection for any follower of the genre. To my mind, if youíre listening to bands such as Placebo, Cure, Pixies etc .,
youíll surely love it.
FUTURE
Xplosion leaves me dreamy when I think about the future of this band. Guenther as really the fibre of a great songwriter. Unfortunately for us, this album is not distributed in France as they donít have a label yet. So, when will we see Xplosion in our stores and Temple X on our stages ? I feel like answering you : itís just a question of time.
article written by :Fabienne ( visit her temple-X website : http://www.temple-x.fr.st)
---
Discography

CD Compilation

2001

I like it"

V/A VWSF 02/10
Single "I like it"
XPLOSION

2001

Apogi Rec. / Album studio 14 songs / Produced by Frank Tovey

I like it / Xplosion / Headcase / Melancholy Happiness / Fix for You / Good Friends / Watchlist / I know nothing / No Consequence / Canít remember /

Shadows / Space Cowboy (3 titres)

Démo Clean Society

1998

CD Démo self produced and distributed Ė 8 songs

Clean Society / Endless callings / Wonder / Good Times / Fly away / Lupins / Horse Power / Sugar Ray
Marshall meets wild West
1996
CD Compilation
Single " Wonder "
Hardboiled
1995
CD Compilation
Single " Sugar Ray "
Demo Rough And Dirty
1995
CD Demo slef produced and distributed - 10 songs

Flowers / Destiny / Speed / Summer Morning / Wreck Bone Tree / Rough and Dirty / Never Change / Trusted Me / We * / Once *

(* ) Bonus Tracks
---
MORE INFOS

All the infos about Temple X on their official website :
The website of íAustrian Popular Music Archive showing some pictures , discography,and some songs to listen with real player :
Home of the site : www.sra.at
direct link to Temple X : www.sra.at/bands/241/753.htm
Fabienne's french website about Temple-X : http://www.temple-x.fr.st